We Started with the Star Wars and Black Holes Episode I, which is containing some minor spoilers for the latest movie, just like the Episode II. On Episode I we analyzed the Black Hole Surface Gravity equation, and on Episode II we talked about Schwarzschild radius. In Episode III we discussed the energy distribution of emission which is described by Planck's law and we also compared the attributes of a Black Hole in the Star Wars Universe with our world's Black Holes. In Episode IV, Stephen Hawking was the man of the hour and his Radiation energy and last but not least, in Episode V we spoke about Density parameter's equation which is related to dark matter.
Some minor Spoilers for the latest Star Wars movie – The Force awakens, are included in this post. If you don't want to know ABSOLUTELY anything about the movie you should probably stop reading now. If you don't care knowing about bad guy's weaponry, you can continue reading.
We all know what Death Star, and Death Planet (Yeah, I know it is called Star Killer base, but it is funnier that way!) are capable of doing!
In our world's astronomy, luminosity is the total amount of energy emitted by a star, galaxy, or other astronomical object per unit time. It is related to brightness, which is the luminosity of an object in a given spectral region.
It has been shown that the luminosity of a star (assuming the star is a black body, which is a good approximation) is also related to temperature and radius of the star by the equation shown.
This seems to apply in the Star Wars Universe as well, since Han Solo confuses death star to a moon when he first sees it due it's luminosity. In the screenshot below you can also spot death star easily due to the light it emits!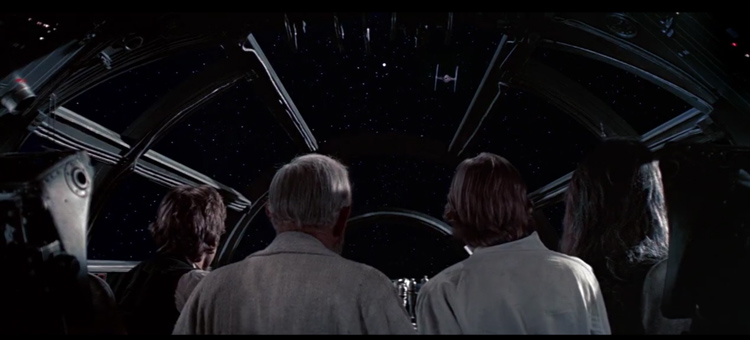 Luminosity of a Star is given by the equation on the left, where L is the luminosity in Watts, π is pi, R the radius of the star in meters, σ the Stefan-Boltzmann constant, and T the temperature of the star in Kelvin.
Go ahead, check this equation and search whatever else you want to solve. You will find some help in our fxSolver video.
Also remember to follow or interact with us in our social media pages. You will find links below.