Christmas spirit is everywhere these days. Even in one of the most non-Christmassy departments. Science!
Let's solve this random (:D) equation: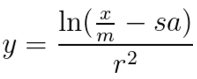 How about multiplying both sides by r2 , it will be fun I guess:




The next obvious step is to eliminate the natural algorithm. So we need to use the equation as powers of the rational number e. That gives us this:


As you know e and ln are inverses of each other, so the equation becomes like this:


Here is another step where we will multiply both sides of the equation by m, because it makes absolute sense and also, Alfred Hitchcock's movie Dial M for Murder premiered 22.488 days ago (or if you may 61 years, 6 months and 24 days before the moment I published this post).


Also, everyone knows that multiplication is Commutative and the square of something is something times something. So our equation takes its final form:


The fxSolver team wishes you the best and happy Holidays!