Laser cutting is a technology that uses a laser to cut materials, and is typically used for industrial manufacturing applications, but is also starting to be used by schools, small businesses, and hobbyists. It works by directing the output of a high-power laser most commonly through optics. A computer is used to analyze the pattern, and make the laser cut it as needed.
The focused laser beam is directed at the material, which then either melts, burns, vaporizes away, or is blown away by a jet of gas, leaving an edge with a high-quality surface finish. Industrial laser cutters are used to cut flat-sheet material as well as structural and piping materials. Last week, a small but pretty neat 3D laser printer made its appearance. It can be very useful tool for small businesses and individuals.
Many lasers emit beams that approximate a Gaussian profile, in which case the laser is said to be operating on the fundamental transverse mode. In optics, a Gaussian beam is a beam of electromagnetic radiation whose transverse electric field and intensity (irradiance) distributions are well approximated by Gaussian functions.


For a Gaussian beam propagating in free space, the spot size (radius) wz will be at a minimum value w0 at one place along the beam axis, known as the beam waist. For a beam of wavelength λ at a distance z along the beam from the beam waist, the variation of the spot size is given by this equation on the left.

For a Gaussian beam propagating in free space along the Zaxis, the Rayleigh length is given by this formula where λ is the wavelength and w0 is the beam waist, the radial size of the beam at its narrowest point.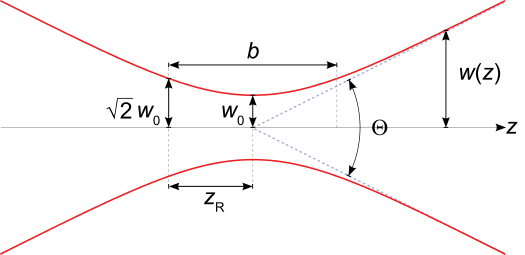 Go ahead, check these equations and search whatever else you want to solve. You will find some help in our fxSolver video.
Also remember to follow or interact with us in our social media pages. You will find links below.