Scientists at Stanford say they've invented the first high-performance aluminum battery that's "fast-charging, long-lasting and inexpensive." It would solve many of the problems with lithium-ion and alkaline batteries. This seems to be a major breakthrough.
The aluminum-ion battery, made of aluminum and graphite in a liquid pouch, offers some potentially huge advantages. They have low cost, high charge storage capacity and they are super safe because they are much less flammable than the Li-ion batteries. But the best feature of this new kind of batteries, is the fast charging. The developers say that a battery similar to the one in your Smartphone can be charged in a minute or two.
Although, the energy density of that kind of batteries is not properly developed yet, so we should wait a little longer.
Energy density, is the amount of energy stored in a given system or region of space per unit volume or mass, though the latter is more accurately termed specific energy. Often only the useful or extractable energy is measured, which is to say that chemically inaccessible energy such as rest mass energy is ignored.
Till then, Lithium-ion batteries will be the most common in consumer electronics. They are so popular because they have a high energy density, no memory effect, and only a slow loss of charge when not in use. (Memory effect, also known as battery effect, lazy battery effect or battery memory, is an effect observed in nickel cadmium and nickel–metal hydride rechargeable batteries that causes them to hold less charge. It describes the specific situation in which certain NiCd and NiMH batteries gradually lose their maximum energy capacity if they are repeatedly recharged after being only partially discharged.)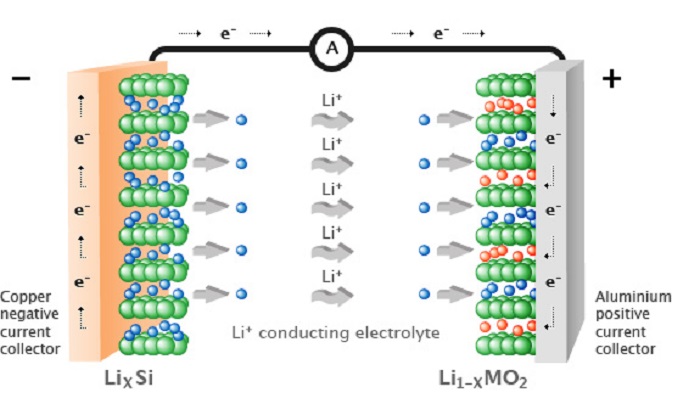 An interesting battery formula, is Gibbs' free energy. The Gibbs free energy is a thermodynamic potential that measures the "usefulness" or process-initiating work obtainable from a thermodynamic system, at a constant temperature and pressure (isothermal, isobaric). When multiplied by an amount of charge the emf (electromotive force) yields a thermodynamic work . G is Free energy (J), S is Entropy (J.K), T the absolute temperature (K), p the Pressure of the system (Pa), V the volume of the system (m3), ϵ the electromotive Force (V), and Q is Charge (C ).
As always, you can try using fxSolver, with the Gibbs' free energy equation in our database.
Please, remember to follow our social media pages, by hitting the buttons below and watch the fxSolver video as well!